Through a process of self-examination by the client and emotional or physical coaching by Krista Anderson, a marriage and family therapist and life coach, EmoZen empowers individuals to recognize when and why they feel out of balance, and what to do about it.
Clients can achieve improved emotional and physical health, as well as greater internal validation, sense of connectedness, purpose, financial wellness, and spiritual awareness. 
It is all too common for individuals to face overwhelming stress, or feel unfulfilled, out of control or simply out of balance.
Unlike traditional therapies, EmoZen encourages individuals to better connect to and take conscious control of all aspects of the self to improve well-being on a bigger scale. Individuals learn to be fully present and aware, utilizing all five senses to better navigate through life and live with intention.  
EmoZen works for all journeys, whether individuals seek deep healing from past traumas, or simply need coaching for better mind, body and life management. EmoZen empowers clients to set goals without limits and manifest their dreams confidently by encouraging greater clarity, connection and success in all areas of life.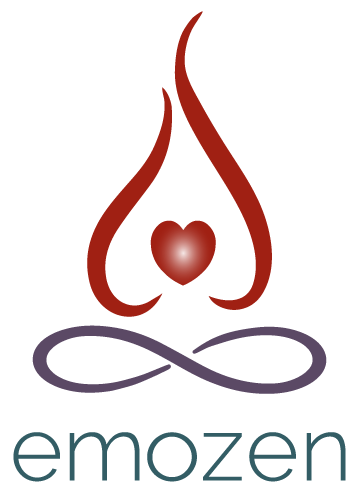 Principles of EmoZen
Learning to surrender issues of control

 

Commitment to self-reflection

 

Commitment to self honesty 

 

Commitment to personal responsibility 

 

Removal of blame (of self and others) 

 

Removal of shame (of self and others) 

 
If you ask yourself any of these questions, I can help.
Why do I feel this way and what can I do about it?

 

Why am I always so _______? (tired, unmotivated, emotional, in pain)

 

Why do I just go through the motions with no satisfaction or joy?

 

How can I help myself and others be happier, more fulfilled?

 

Why can't I get past this ________ ? (hurdle, plateau, grief)
Why does this always happen to me?

 

Why do I always feel like I'm being walked on?
Why do I keep choosing the wrong _____? (job, mate, friends)

 

Why do I feel unfulfilled? What's missing?

 

How can I get ahead?
What's holding me back? (athletics, career, relationships etc.)

 
A love letter to my clients.
I know you're struggling, your silence speaks, you smile from cheek to cheek keeping your walls up but you're not fooling me. It's okay let me in, I too know the feeling of betrayal and abandonment. We reflect on the pain holding onto it as if the answers lie within but let me tell you something my friend, feel it then release it so your healing can begin. The road ahead won't be easy, but you're not alone on my watch. So don't fret. I'm here to help you through it all. Forgive and love yourself. You are a beautiful creature. Life is about lessons. It's how we grow and transform into light beings. It is how we love. ~ Krista
Are you ready to invest in your well-being?
 It's within your control to create greater levels of confidence, success and satisfaction. Emozen mentorship offers you a chance to become unstuck in your story. Love your self again, or maybe for the first time, creating more intimacy with your self and others.
Fees:
One in-person session for new client: $165 an hour
Each hourly in-person session after initial session: $125
Purchase bundles for greater value:
4 Sessions: $400 (must be used within a 2-week period)
Saturday Workshop: $300 (4 hours and includes lunch)
Visit our Store for more options and to purchase.
Please note:
Payment must be made in full at time of booking first appointment.
Payment may be made via cash, Venmo or PayPal.
We do not bill insurance.
24 hours is required to cancel an appointment, otherwise there is a $100 cancellation fee.
[testimonial_rotator id=6131] © 2018 EmoZen LLC | PRIVACY | TERMS